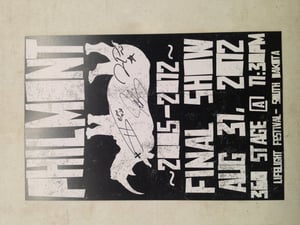 $

25.00 - On Sale
It's been a great 7 years!
We printed some extra fliers for the final Philmont show, signed them and are selling them on here in an effort to offset some credit card debt.
Consider your purchase as a donation to our band!
Posters are 11x17, high-gloss and printed on a heavy stock.
Each poster is signed by Scott, Josiah and Josh and are individually numbered (out of 50)
Shipping is free to the US and we'll send it in a document tube so we won't have to fold it.
WE'LL ALSO INCLUDE A STICKER/BUTTON/BRACELET PACK FOR FREE